HEROES AND MONSTERS live e album da paura
Frontiers Music Srl ha annunciato il 20 gennaio 2023, l'uscita del debut album omonimo degli HEROES AND MONSTERS. A seguito, un tour di 10 tappe in giro per l'Italia.
La band è formata dal bassista/cantante Todd Kerns, il chitarrista Stef Burns e il batterista Will Hunt, il power trio ha concluso da poco il suo Italian Invasion Tour, con l'ultima tappa tenutasi al Vertigo Rock Arena.
Durante il concerto la rock band nordamericana ha presentato il suo album e portato in scena, di fronte ad un pubblico gremito ed agguerrito, un enorme talento e l'interpretazione di alcuni brani cover oltre ai propri.
Eroi e mostri, in sintesi, sono esattamente questo. Tre musicisti che cavalcano eroicamente il palco e se lo mangiano dimostrandosi mostri sacri grazie alla loro tecnica, energia e potenza. (ulteriori dettagli sulla band qui).
L'open act della serata è stato affidato alla band Torinese GRAVE T, che con il suo hard rock/alternative ha ben scaldato i motori.
A seguito, il video degli Heroes and Monsters del singolo 'Raw Power' (ascoltabile anche nella nostra playlist su spotify), i dettagli dell'album e il link per acquistarlo e le bellissime immagini live dell'ultima tappa del Tour.
Heroes and Monster è un album da ascoltare a tutto volume. LO TROVI QUI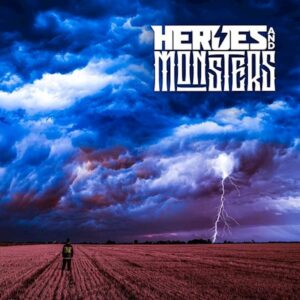 Questa la tracklist del disco:
01. Locked And Loaded
02. Raw Power
03. Let's Ride It
04. Angels Never Sleep
05. I Knew You Were The Devil
06. Break Me (I'm Yours)
07. Blame
08. Don't Tell Me I'm Wrong
09. Set Me Free
10. And You'll Remain
La Photogallery degli HEROES AND MONSTERS live at Vertigo Arena Rock. Open Act GRAVE T.  Foto di Letizia Reynaud 
HEROES AND MONSTERS @ VERTIGO ARENA 2023 - OPEN ACT GRAVE T